EVAL Manual for Evaluation Contractors > 1. Introduction to the EVAL Module
Table of Contents
1. Introduction to the EVAL Module
The IT module e-Evaluation Tool & Library (EVAL) is used for all Project/Programme, Country Sector Level, Budget Support and Thematic Evaluations contracted from 2016 onwards by DG INTPA, DG NEAR and FPI, both in Headquarters and in Delegations. 
For EC services launching and managing evaluations, EVAL serves both as a process management tool and as a repository/knowledge sharing tool. Using EVAL as a contractor, you can gain remote access to project and programme documentation, and you will have a single place to upload all your deliverables and verify their approval status. 
You can find more information about EVAL in the EVAL documentation section of the RELEX Wiki. If you have any methodological questions, please refer to the Capacity4Dev Evaluation Methodological Approach website. Do not hesitate to write to INTPA SUPPORT SERVICES or NEAR APPLICATION SUPPORT for IT support.
Note that as a Contractor, Evaluation Team Leader or Expert, you will have access to EVAL only for the duration of the evaluation(s) you are working on. 
For easy and fast access: check that you have created a profile in EU Login. If this is not the case, please see the EU Login Guide.
1.1 Overview of the EVAL Workflow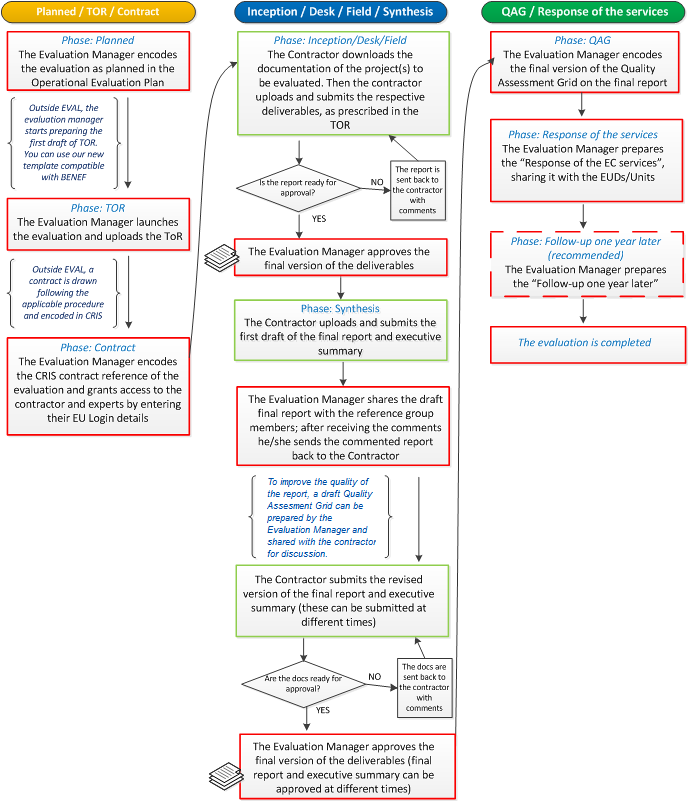 1.2 Detailed table of the EVAL Workflow
As an introduction, please find below an overview of the various phases and actions to be performed in the EVAL module:
In green, the actions to be taken by the Contractors

In italic red, the actions to be taken by the Evaluation Managers


 

Phase

Actions

Person in charge

3.

Contract

After the signature of the contract, the Evaluation Manager encodes contractual information. He/She:

Enters the CRIS reference of the evaluation contract
Adds the EU login details of the Contractor, team leader and expert(s) to the respective fields under the stakeholders tab




Make sure that you have a valid EU login as soon as the contract is signed. For details on how to create an EU Login account, you can consult this tutorial. Once the EU LOGIN is created, the contractor must communicate it to the EM.




Evaluation Manager /

Contractor 

4.

Inception/Desk/

Field

An automatic notification is sent by EVAL when the Inception phase starts.

You:

Download project documentation from the EVAL module, which is linked to the CRIS library of the project

When ready, upload the draft Inception/Desk/Field report(s) in the module (you can upload multiple versions)

After uploading the final version of the report(s), set the report(s) as final and submit them to the Evaluation Manager




The Evaluation Manager approves each report. He/She:

Receives the first version of the report and shares it with the reference group members for their comments
Approves the report or sends it back for revision with comments
If the report is approved, short comments can be added into the comments field. If the report is sent back for revisions, more extensive comments may be shared by uploading them using a separate Word file




Contractor / Evaluation Manager

6.

Synthesis

As soon as the Evaluation Manager has approved the report, EVAL sends you an automatic notification.

You draft and submit the synthesis documents. These include a final report and an executive summary, which in EVAL can be submitted and approved separately. Please note that the executive summary must be drafted using the form available in the system. This is mandatory.




You:

Upload a draft of the final report and, when ready, set it as final

Upload a draft of the executive summary and, when ready, set it as final

When ready, submit the final report and executive summary to the Evaluation Manager







After collecting comments from the reference group, the Evaluation Manager sends back the first version of the draft Final report with comments for revision.

To improve the quality of the report, the Evaluation Manager can prepare a DRAFT Quality Assessment Grid (QAG) outside of the EVAL module, in which the quality of the draft final will be assessed. Improvements are requested if necessary. The first version of the QAG is shared with the Contractor for discussion.




You discuss the quality assessment grid with the Evaluation Manager, responding to the QAG in EVAL in the boxes assigned to the contractor.. After revision of the draft final report, you upload a revised draft of the final report and/or executive summary, and submit the documents.




If the report is approved, short comments can be added into the comments field. If the report is sent back for revisions, more extensive comments may be shared by uploading them using a separate Word file.

Contractor  /

Evaluation Manager

7.

QAG

The Evaluation Manager prepares the final QAG in the EVAL module and shares it with the Contractor by e-mail.

You will receive the final QAG via e-mail. You will also be able to consult the scoring of the QAG on the quality of the final report in EVAL.

You will have access to EVAL for your evaluation until the end of the QAG phase included.




Evaluation Manager

8.

Response of the Services/

Follow-up one year later

The Evaluation Manager will be responsible for filling and sharing with the relevant EC services the templates "Response of the Services", and "Follow-up one year later", if foreseen.

 

The evaluation is completed.




Evaluation Manager
Overview
Content Tools
Apps
Activity