This page explains how to indicate the Participation as Force Majeure due to the Coronavirus. 

Indicate the participation as Force Majeure
Force majeure is defined as an unforeseeable exceptional situation or event beyond the individual participant's control. It is not attributed to error nor negligence on their part, but these situations can arise at any time including factors such as sudden disease, accidents, death, earthquakes and other causes.
The Force Majeure drop-down is available in the Participant section of the participation. If you set it to Yes, the comment field Force Majeure Explanations must be completed with the justifications for indicating the participation as Force Majeure.
Note: Force Majeure does not affect the sending of the participant report. The participant, even if unavailable, will receive the system notification regarding the Participant Report to be filled in at the end of the activity.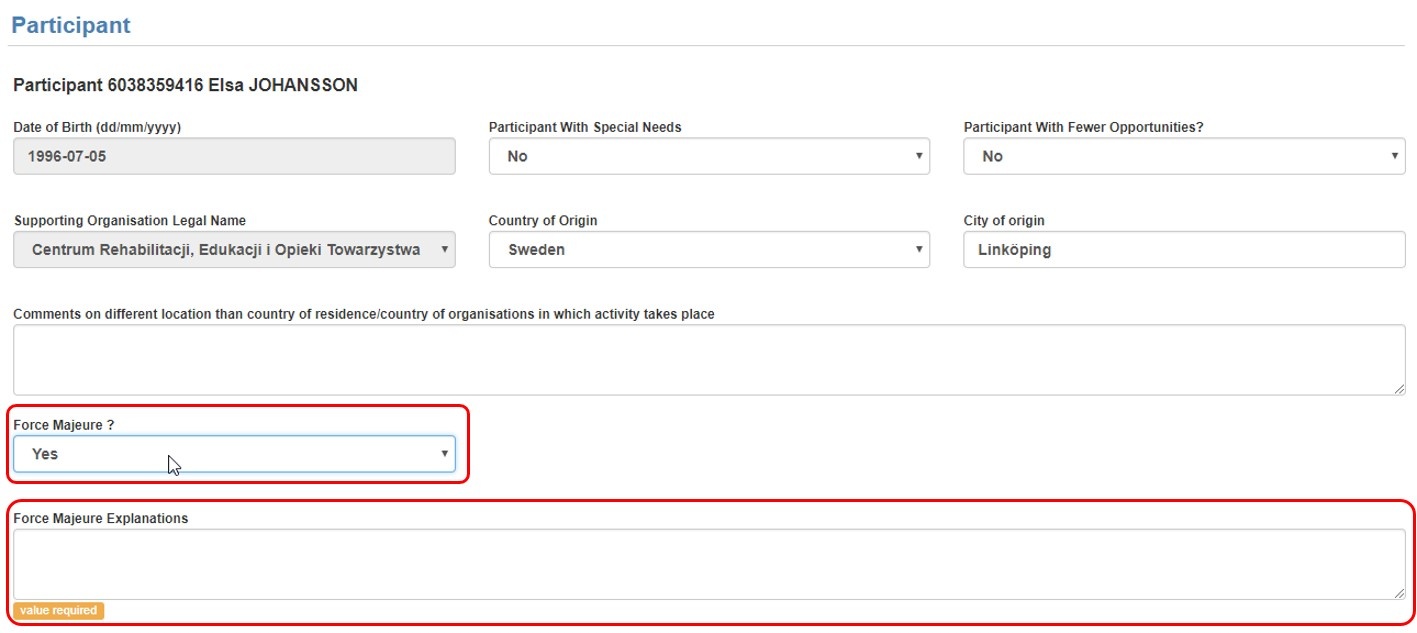 When the Force Majeure is checked there is no maximum duration constraint (applicable for call years starting from 2018 except for ESC31) and the following fields are editable:
Total Organisational Support - Activity costs grant
Total Travel Grant
Pocket money (applicable for ESC11 and ESC13)
Relocation allowance (applicable for ESC21)
Inclusion support (applicable for ESC11, ESC13, ESC21)
---
2020 "COVID-19 affected" participation
Select Yes from the Force Majeure? field.
Add an explanatory comment including the word "covid" or "corona".
Set the end date of the participation within 2020.
Note that the Covid-19 affected flag is checked as conditions 1-3 are fulfilled. Save the participation and return to the participation list for the activity.
In the Covid-19 affected column a check mark is displayed for the participation.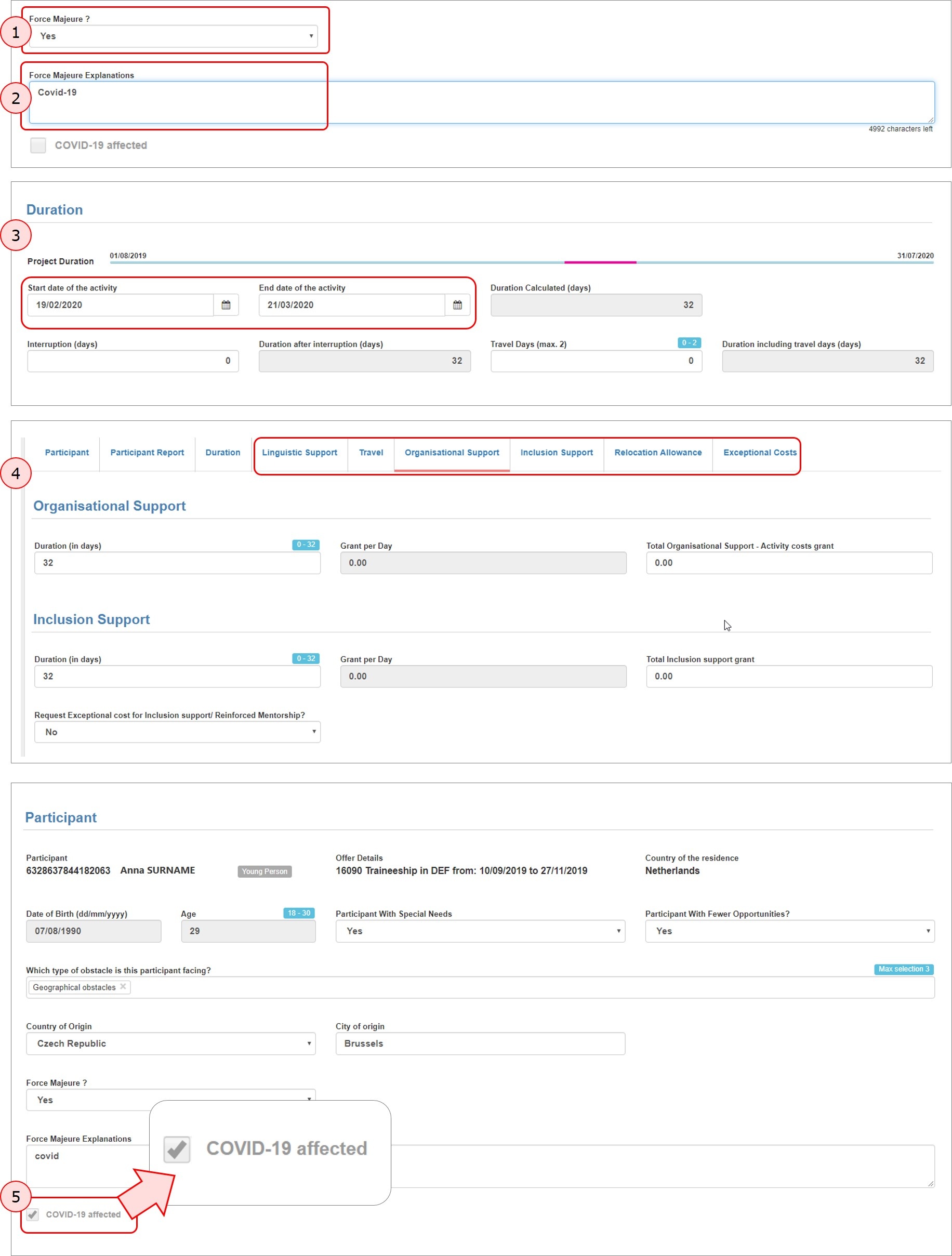 <div class="page-break-simple"></div>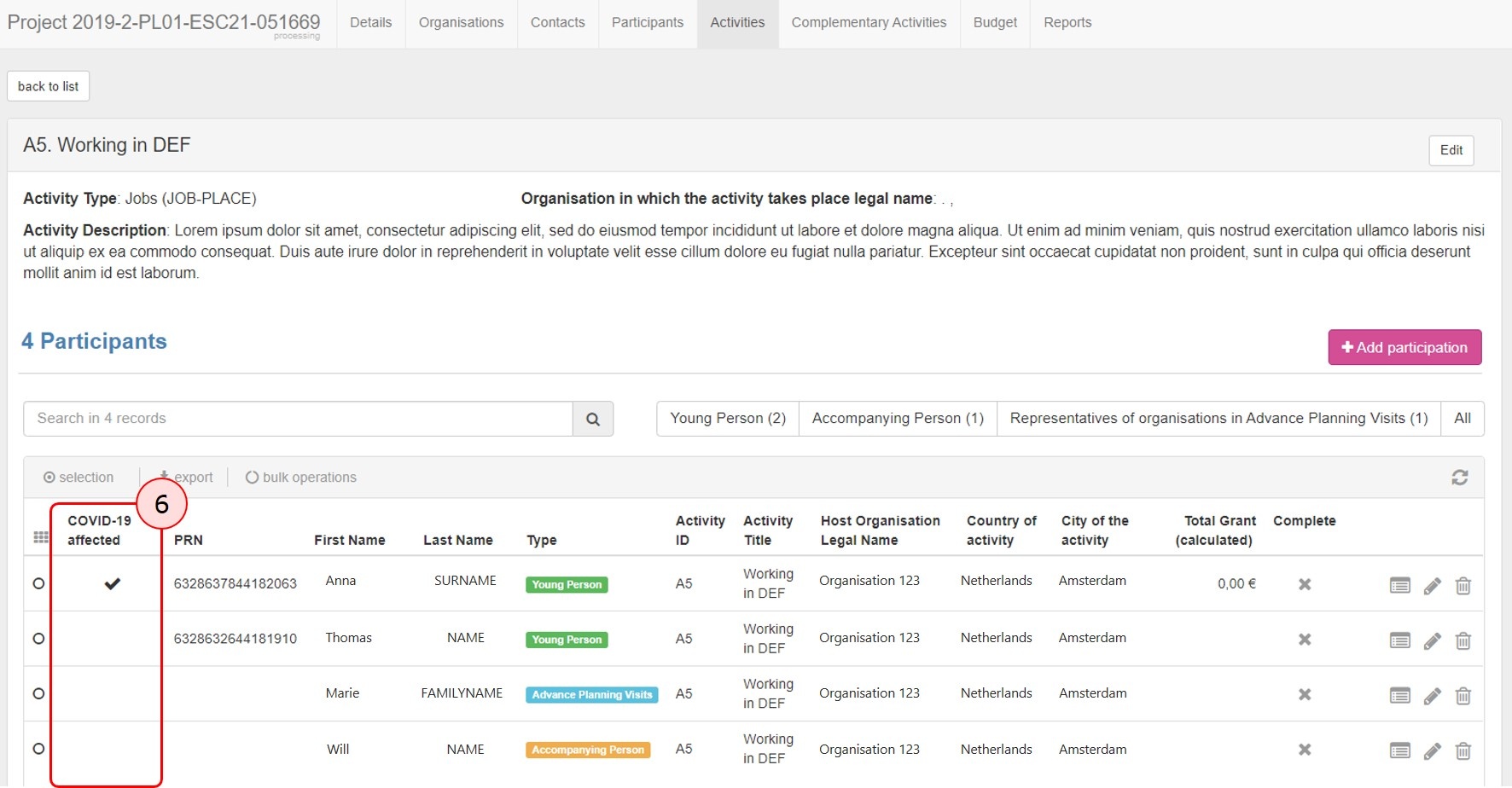 Force Majeure scenarios:
For most scenario's follow the steps above and indicate the real dates as known or foreseen dates if not yet confirmed. All participations flagged as Force Majeure and with the same start and end date will be excluded from the general statistics on participations.
A. For participants that terminate the activity and return home
B. For participants that suspend the activity and decide to stay abroad or are forced to stay abroad
C. For participants (or organisations) that have decided to cancel the activity before it started
D. For participants (or organisations) that have decided to cancel the initial activity before it started and postpone it for later

,

thereby incurring extra costs
Follow the steps above.
Fill in the delayed (real) Start Date and End Date of the participation
The Covid-19 affected flag will be automatically checked if the foreseen end date is within 2020.
Additional information
Participations which had to be suspended have to be flagged as force majeure and interruption must be used.
In such cases, the grant will be automatically reduced to cover the actual duration of the participation, without the interruption period. If the grant for the interruption period is entitled (in accordance with the specific guidelines), the relevant budget items must be edited manually.