Initialise the EU Login Mobile App with your mobile device
To initialise the EU Login Mobile App you need your mobile device and a computer. Download the app on your mobile device. Make sure you allow notifications, otherwise you will not be able to use the app.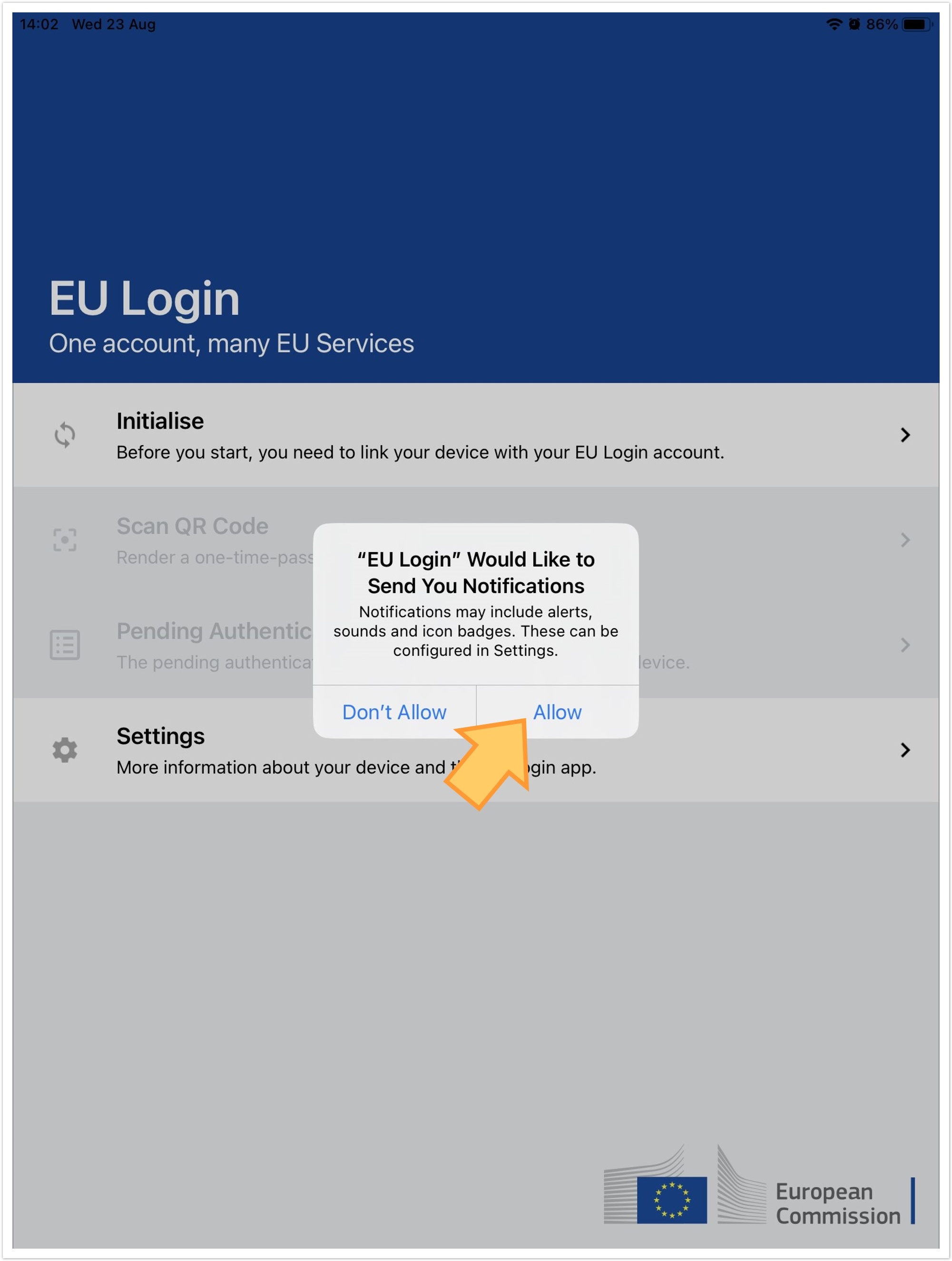 On your PC, log in to EU Login with your e-mail address and password. 
If you already installed and initialised the EU Login Mobile App on another device or if you registered your mobile phone number for receiving SMS, you are requested to authenticate again using the already registered device or phone number.
To access your EU Login account details, click on the settings (gear) icon in the upper right corner and click on My Account. 


The My Account page opens. Select Manage my mobile devices.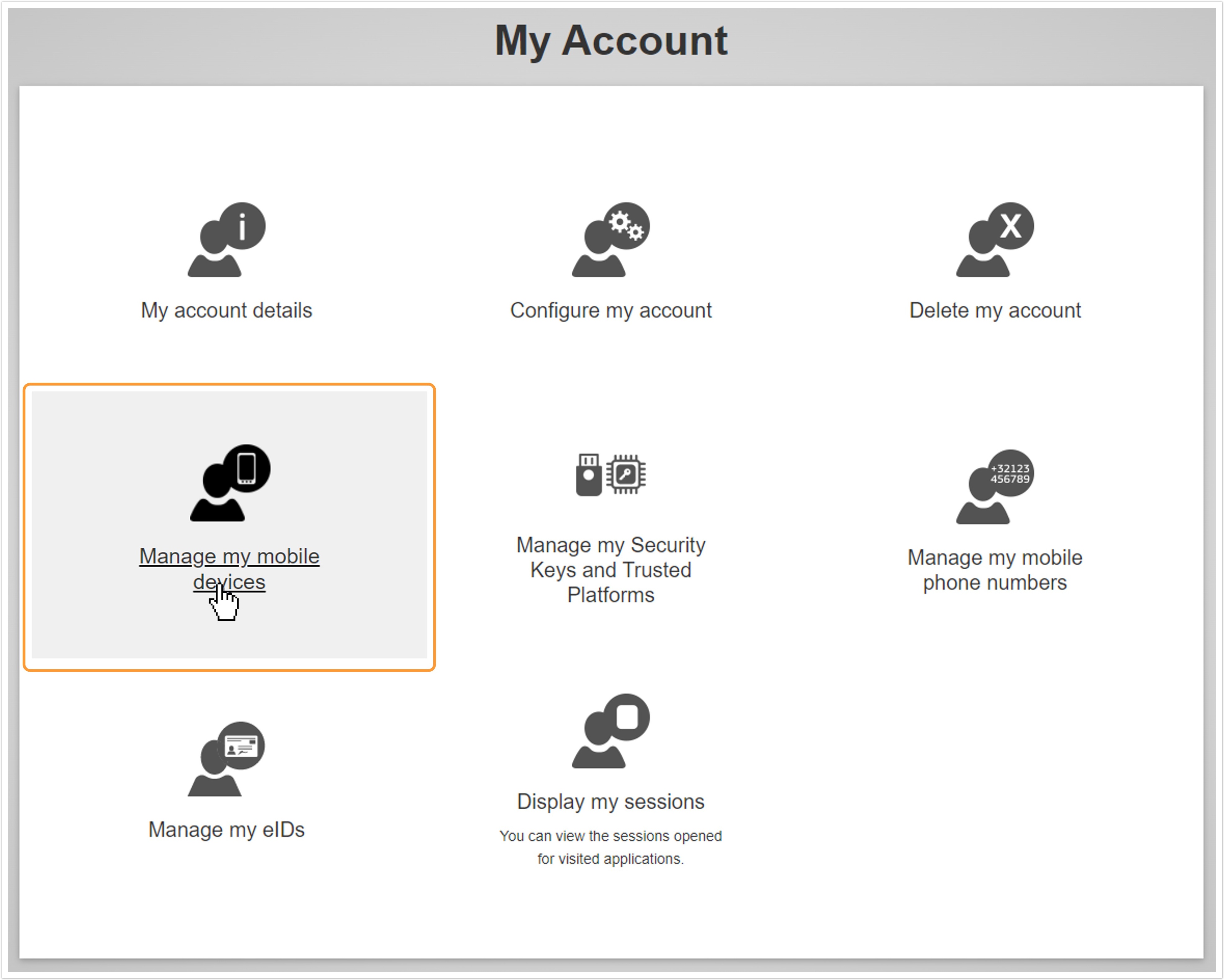 Click on Add a mobile device.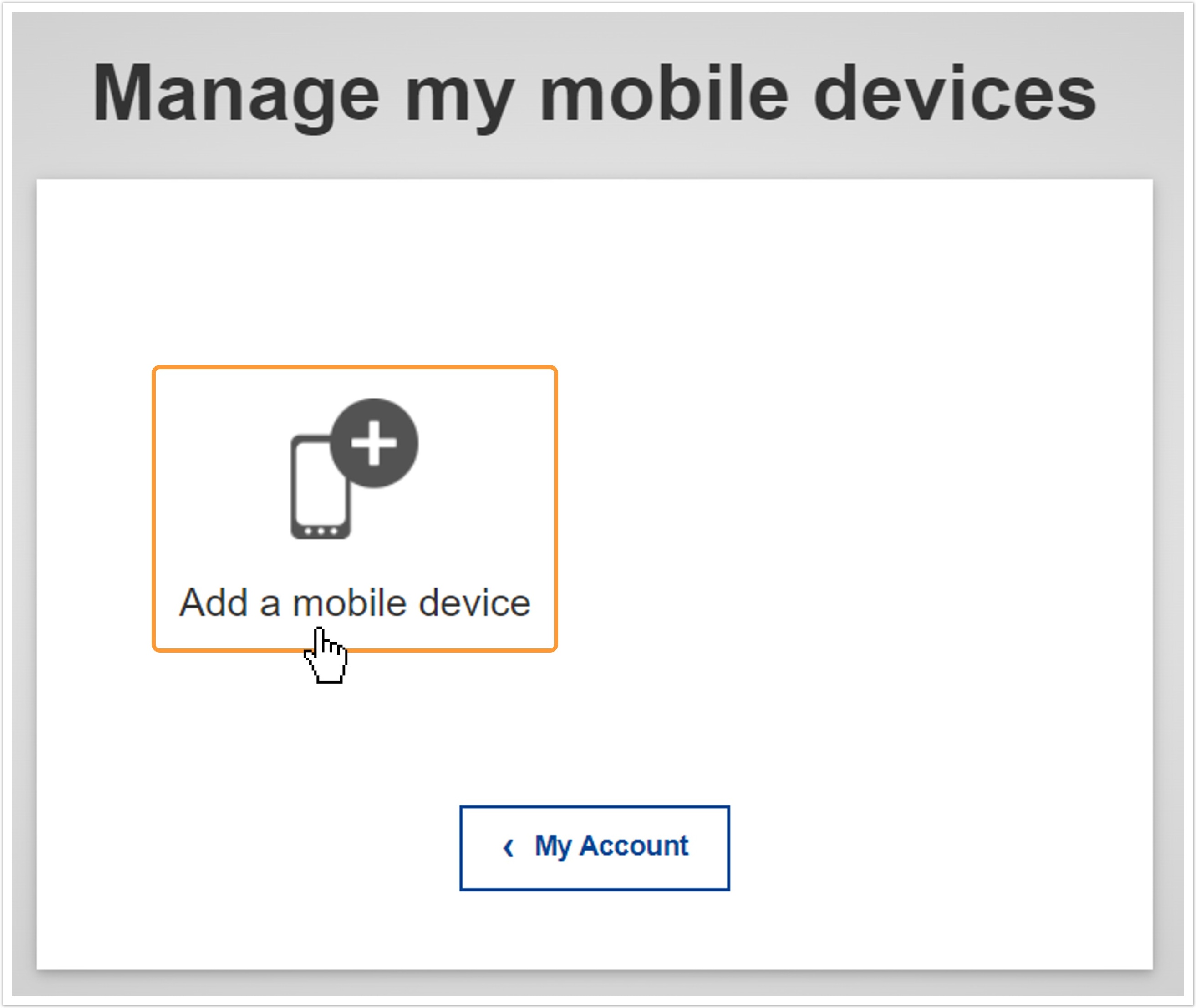 Fill in the required information in the Add a mobile device screen. You have to provide a name for your device and set up a 4 digit PIN code. 
You can pick any name that suits you, such as "My Android tablet", "My iPhone" or "My blue Windows phone". You will be prompted to provide the PIN code when authenticating so make sure you select one that you can easily remember. However, avoid PIN codes that can be easily guessed, such as your birth year or birthday and month.
Click on the Submit button.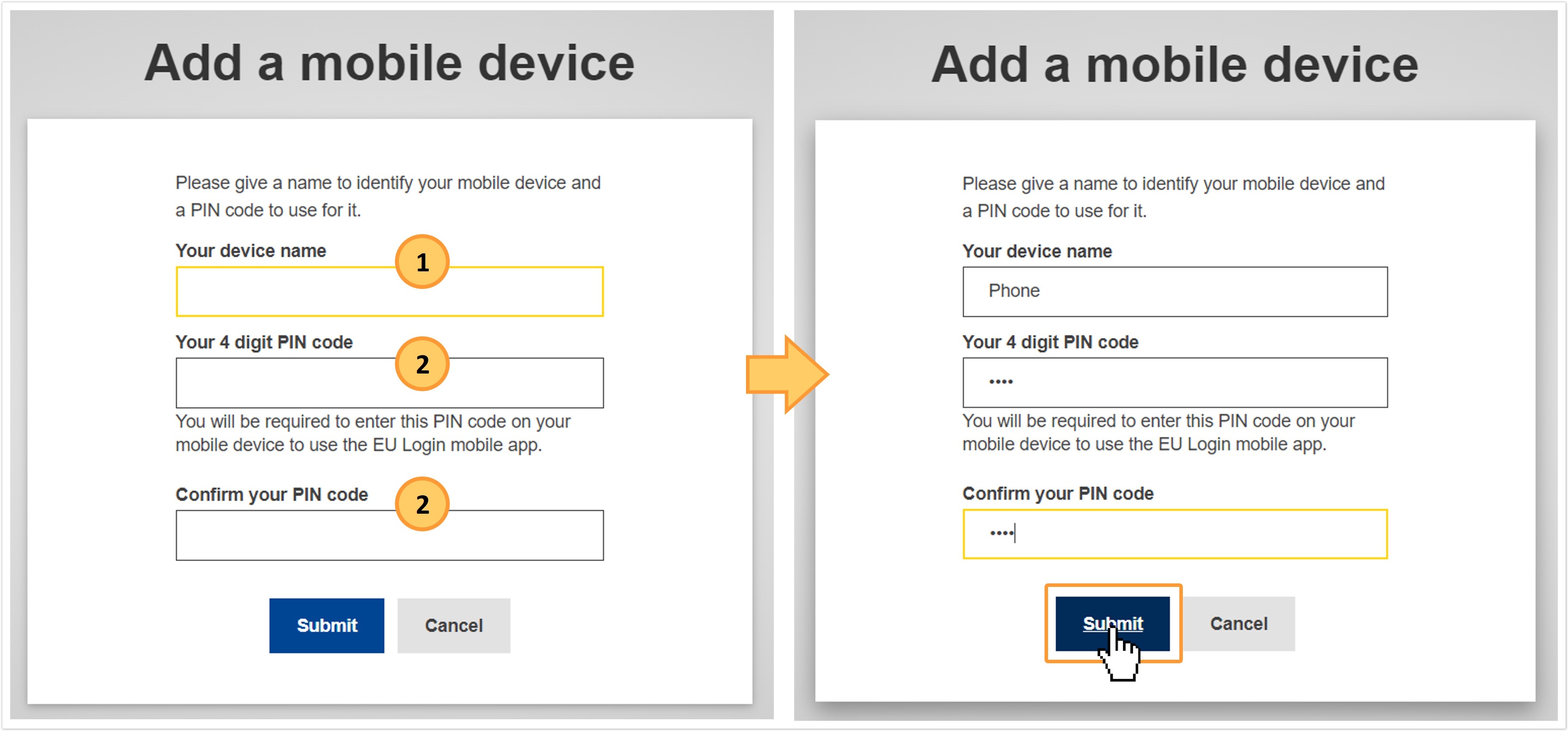 On your mobile device, open the EU Login Mobile App and select the Initialise option. Follow the instructions on screen and allow access to your camera.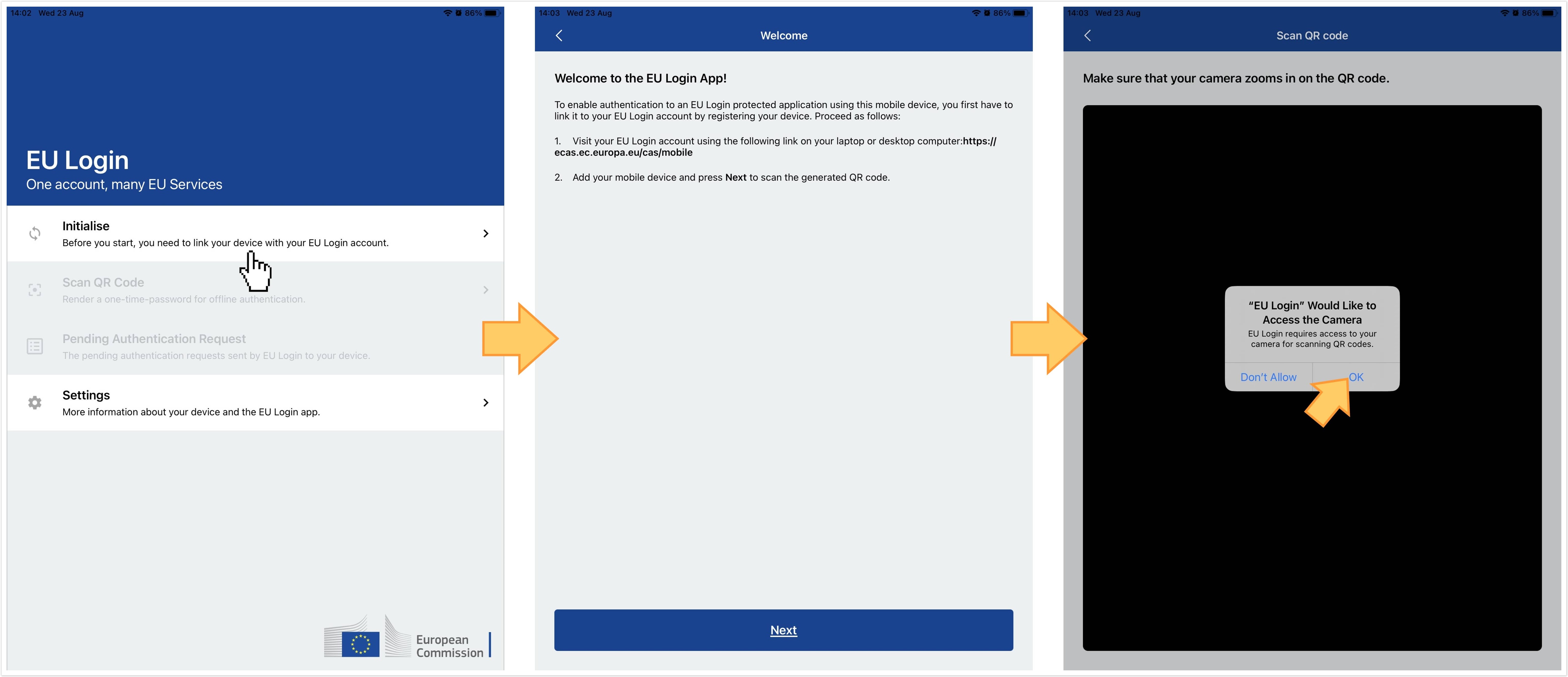 The QR code scanner starts on your mobile device and a QR code is displayed on the screen of your PC. Point the camera of your mobile phone to your PC screen until the QR code is recognised. In the Authenticate screen, enter the 4 digit PIN code you set up earlier and click on Authenticate.
A success message displays on your device, confirming the setup of your mobile device with EU Login. Your EU Login Mobile app is successfully initialised and can be used for authenticating. Click on Continue to be redirected to the Welcome screen. 
You can now use your mobile device to access the European Commission services that require 2 factor authentication, either by using the 4 digit PIN or by scanning the QR code.


If your device is equipped with Fingerprint recognition (TouchID), an automatic pop up will be displayed to Enable Fingerprint recognition. You can enable this function by clicking on YES. If you do not want to enable Fingerprint recognition, click on SKIP.