Development of new Species Action Plans
The International Union for Conservation of Nature (IUCN), in collaboration with experts from the IUCN Species Survival Commission, in particular the Invertebrate Conservation Committee and the Hoverfly Specialist Group, as well as Buglife, have started working on the production of Action Plans for conservation of threatened pollinator species in the EU.
The Action Plans are being developed in the framework of an EU funded project which started in April 2021 and will run for two years. The work taps into an important IUCN knowledge product – it will follow the Guidelines for Species Conservation Planning (IUCN SSC 2017), developed by IUCN SSC Conservation Planning Specialist Group (CPSG).
Out of fifteen shortlisted Action Plans, the highest ranked three proposals will be developed through this project: 
All shortlisted proposals can be found in the below report.
Species Action Plan report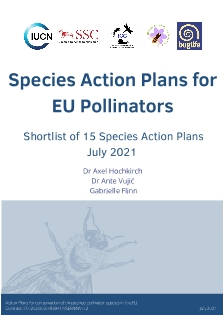 Download report (PDF)