A Red List of insect experts in Europe
New EC-funded project will identify trends in taxonomic expertise across Europe to identify gaps in expert knowledge
While insect populations are plummeting, spelling demise for ecosystems and food sources, an increasing body of evidence shows we currently recognize only a fraction of this declining biodiversity. Even worse, insect taxonomists able to describe and provide further information about insect diversity are also in trouble. This is why the 'Red List of Taxonomists' project, funded by the European Commission, seeks to map and explain trends in taxonomic expertise across Europe. 
Here is why the European Commission has funded a new project to embark on the pioneer task to assess the status of taxonomic expertise on insects in Europe. A "Red List" of taxonomists will be compiled for the first time for any group of organisms. The effort is being undertaken by a diverse and interdisciplinary team of experts, including the organisation uniting the most important and largest European natural science collections (CETAF) and the world's authority on assessing the risk of extinction of organisms (IUCN).
As with typical European Red List (ERL) assessments, normally applied to species level, the project involves the collection and evaluation of the available information about the number, location, qualification and field of specialization of insect taxonomists and the application of systematic criteria to assess the risk of their "extinction".  This concept has never been applied to scientific expertise before, but by using the ERL analogy, the project aims to combine those groups of insects and those countries that bear the highest risk of losing the associated taxonomic expertise and potential gaps.
Bringing together individual scientists, research institutions and learned societies from across Europe, the project will compare the trends and pull up recommendations to overcoming the risks, preserving and further evolving the expert capacity of this scientific community. Unlike species extinctions, the loss of taxonomic knowledge is reversible, especially when the needs are clear and the necessary resources are invested in education, training, career development and recognition.
European Red List of Taxonomists project - how the work will be carried out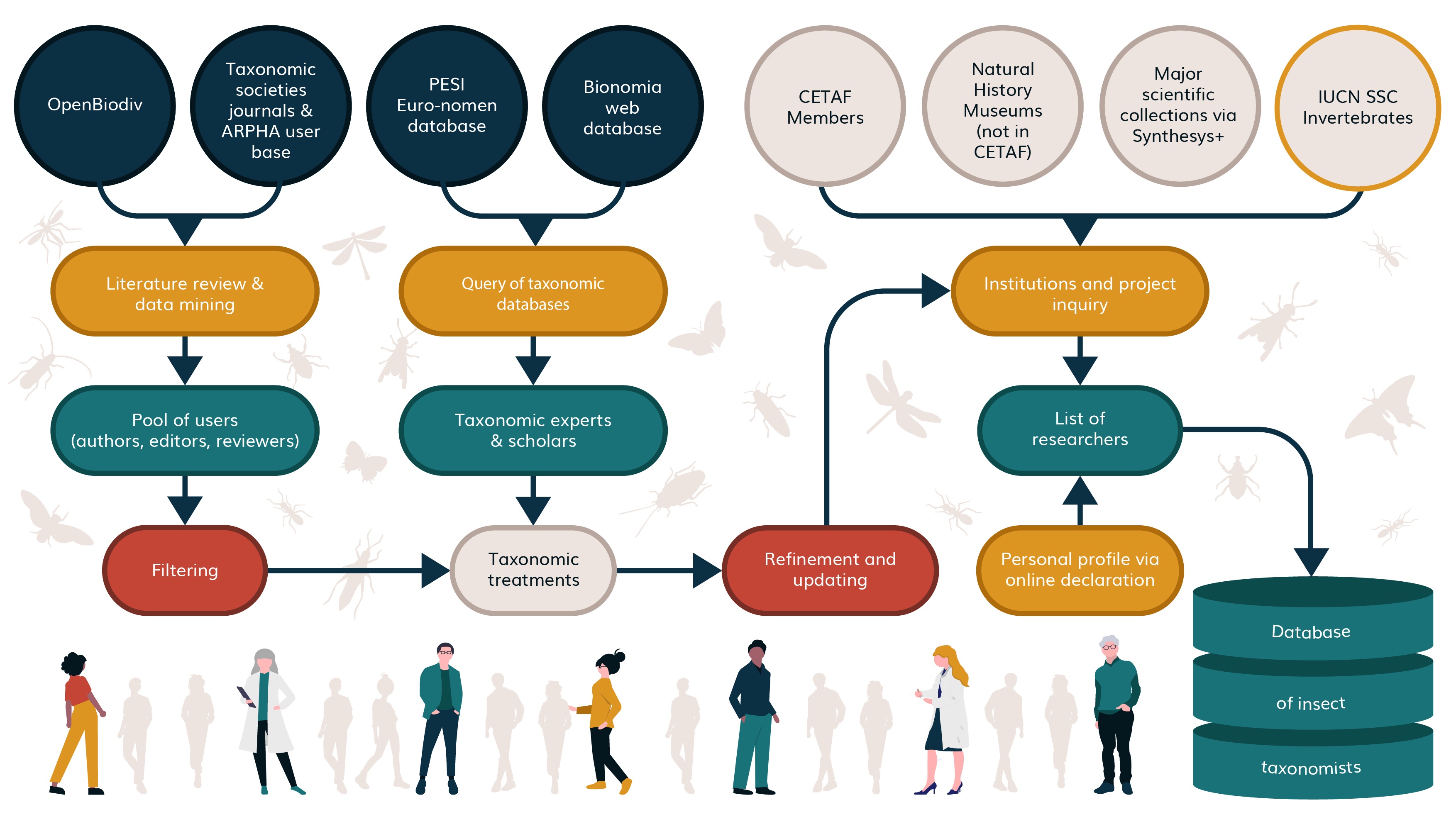 Project team
CETAF is the European organization of Natural History Museums, Botanic Gardens and Research Centers with their associated natural science collections comprising 71 of the largest taxonomic institutions from 22 European countries (18 EU, 1 EEA and 3 non-EU), gathering expertise of more than 5,000 researchers. Their collections contain a wide range of specimens including animals, plants, fungi and rocks, and genetic resources which are used for scientific research and exhibitions. CETAF aims to promote training, research collaborations and understanding in taxonomy and systematic biology as well as to facilitate access to our natural heritage by sharing the information derived from the collections.
IUCN (the International Union for Conservation of Nature) is a membership Union composed of both government and civil society organisations. It harnesses the experience, resources and reach of its more than 1,400 Member organisations and the input of more than 17,000 experts. This diversity and vast expertise makes IUCN the global authority on the status of the natural world and the measures needed to safeguard it.
Pensoft is an independent academic publishing company and technology provider, well known worldwide for its novel cutting-edge publishing tools, workflows and methods for text and data publishing of journals, books and conference materials. Through its Research and Technical Development department, the company is involved in various research and technology projects. Founded in 1992 "by scientists, for scientists" and initially focusing on book publishing, Pensoft is now a leading publisher of innovative open access journals in taxonomy and biodiversity science.
Contact:
Iva Kostadinova, i.kostadinova@pensoft.net, Pensoft
Ana Casino, ana.casino@cetaf.org, CETAF
Sarine Barsoumian, Sarine.Barsoumian@iucn.org, IUCN
For more information please visit the project's webpage.